---
The Xtract-All® Nail (Winquist 4) Universal IM Nail Extraction System from Shukla Medical is the first and most comprehensive intramedullary nail removal system on the market. Now in it's 4th generation, the Xtract-All® Nail is a robust system comprised of multiple options for IM nail extraction, and is able to connect with 100% of IM nails on the market.
Remove cannulated, solid, & broken IM nails
Comprehensive system contains multiple removal options
Minimize costly O.R. delays searching for compatible tools
Extraction C-Frame applies crucial impaction force in-line with IM nail
Grooved extraction tips clear inter-nail bone growth efficiently
Bone-clearing teeth on solid IM nail extractors limit extra steps
Use in conjunction with the Xtract-All® Maxi system for complete IM nail system removal solutions
Cross-reference any implant with the X-Ray Search Engine Implant Compatibility Database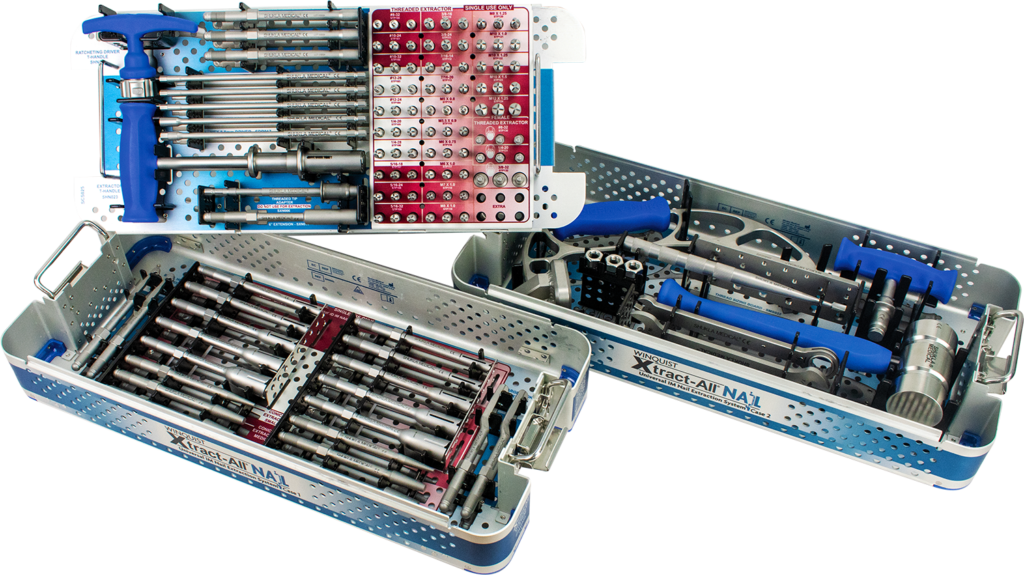 Product Guide: SHUKLA Nail (S9NAIL)
Surgical Technique: SHUKLA Nail (S9NAIL)
Shukla Medical Limited Warranty
Cleaning and Sterilization: Instructions
Upgrade Comparison: Winquist 4 (S9NAIL) vs Winquist 3 (MKS1017)
Reorder Form: Xtract-All® Nail (S9NAIL)

---
Xtract-All® Nail Winquist 3
Winquist 3 Universal Extraction System: Nails – Plates – Screws as designed by Dr. Robert Winquist.
---
The Winquist® is a fully equipped universal system for removal of all intramedullary nail systems
Designed to minimize costly time delays in the O.R. during IM nail removal procedures
Removes Cannulated Nails (threaded and non-threaded), Solid Nails and Broken Nails (up to mid shaft)
Includes C-Frame and Mallet for greater surgeon control and extraction force